TECHNOLOGICAL EXCELLENCE
STAFOR MECHANICAL DIVISION
STA‑FOR Mechanical Division is the company division that since 1975 has dealt with high precision machining, and stands for Guarantee even in very different sectors from the original one of blades. STA‑FOR Mechanical Division in fact produces mechanical components and parts/assemblies intended for diversified markets in agriculture, foodstuffs, automotive, plant engineering, steel industry, with strong partnerships in Italy and abroad.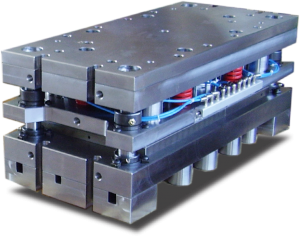 More information at
The departments of the Mechanical Division are equipped with state‑of‑ the‑art technology for CNC machining on metal and plastic: > Swarf removal: Grinding, Sharpening, Turning, Milling; > Cutting by EDM, Laser, Shearing; > Diecasting.
The technological excellence of the Mechanical Division, with the connected Design and Modelling Departments and Control and Quality Departments, is the secret of the success and underlies the extremely high precision and quality also of all STA‑FOR® branded professional pruning products.